Rosencrantz and Guildenstern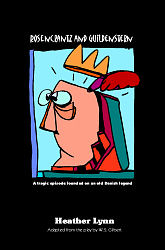 One-Acts 20

By: W. S. Gilbert
Cast: 5 M, 2 F, 1 flexible, extras
Performance Time: Approximately 30 minutes, 26 pgs



CLASSIC. To prevent Hamlet from soliloquizing, Queen Gertrude has summoned two merry knaves, Rosencrantz and Guildenstern, to provide court revels to cheer up the morose prince. When Rosencrantz and Guildenstern arrive, they learn that Ophelia is betrothed to Hamlet, who she thinks is "idiotically sane with lucid intervals of lunacy." The trio devises a plan to get rid of Hamlet by persuading him to perform the tragedy Gonzago before the King and his court. Unknown to Hamlet, King Claudius is the author of the ridiculous play, which was laughed off the stage opening night, and King Claudius has decreed that any reference to it is punishable by death. This spoof of Hamlet will have your audience roaring with laughter!

Freeviews: To read play excerpts click here.

About the Story: To read more about the story click here.
Please remember it is necessary to purchase one script for each cast member and one royalty for each performance.

Scripts: $6.95 each
Royalty: $0.00/performance
Prompt Book: $13.00
Poster Package: $50.00 (50/pkg)
Distribution Rights: $60.00
Artwork Rights: $50.00
Play Pack: $119.00 (11 scripts for cast/crew, 50 posters, 1 prompt book)


English dramatist W. S. Gilbert (1836-1911) is best known for the 14 comic operas he produced with Sir Arthur Sullivan that include the H.M.S. Pinafore, The Pirates of Penzance, and The Mikado. Gilbert wrote more than 75 plays in addition to poems and lyrics. His work inspired other dramatists including Oscar Wilde and George Bernard Shaw.