Shakespeare's Next Top Model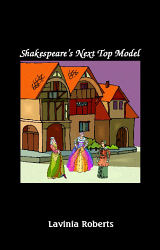 One-Acts 20

By: Lavinia Roberts
Cast: 6 M, 18 F, 10 flexible, opt. extras (With doubling: Minimum cast of 15.)
Performance Time: Approximately 30 minutes, 32 pgs



SPOOF. Greetings and welcome to "Shakespeare's Next Top Model," the TV-reality show where the lovely ladies of Shakespeare compete for a modeling contract and the chance to be Shakespeare's next top model. The three judges?Cleopatra, Puck, and Princess Catherine?will speak with contestants and review their modeling portfolios to decide a winner. Contestants vying for a modeling contract include Bianca, Desdemona, Juliet, Ophelia, and Lady Macbeth. Lady Macbeth arrives on set and mistakenly thinks she's competing for "Shakespeare's Next Top Queen" and Othello shows up in a jealous rage thinking Desdemona is auditioning for "Who Wants to Marry a Millionaire"!

Freeviews: To read play excerpts click here.
Please remember it is necessary to purchase one script for each cast member and one royalty for each performance.

Scripts: $6.95 each
Royalty: $60.00/performance
Prompt Book: $13.00
Poster Package: $50.00 (50/pkg)
Distribution Rights: $60.00
Artwork Rights: $50.00
Play Pack: $360.00 (37 scripts for cast/crew, 1 royalty, 50 posters, 1 prompt book)


Lavinia Roberts is the author of several published plays and has acted, directed, and crewed in community, college, and professional theatres in the United States and Europe. She earned a BFA in Fine Art from the University of Kansas and teaches children's acting classes at the Topeka Civic Theatre and Academy in Topeka, Kansas.