Zombie Movie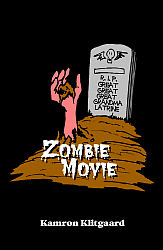 Full-Lengths

By: Kamron Klitgaard
Cast: 6 M, 9 F, 10 flexible, opt. extras
Performance Time: Approximately 120 minutes, 57 pgs.



INTERACTIVE FARCE. A film crew arrives at a rural cemetery to start shooting the zombie movie, "The Return of the Night of the Living Dead Flesh-eaters, Part Two: This Time It's Personal." The film is so low-budget that there's no money for foam latex, so the makeup artist has to fashion zombie makeup out of Rice Krispies and mini-marshmallows. Despite the lack of funds, filming goes smoothly until a crazy band of Louisiana Gypsies uses "The Complete Book of Curses For Dummies" to place a curse on the film crew. Then a group of hillbillies arrive and accidentally desecrate a grave, which unleashes a throng of real zombies. Soon no one can tell the real zombies from the zombie actors! The director tries to instruct the real zombies on how to walk like zombies, and the hungry makeup artist and cameraman nonchalantly rip pieces of skin off a real zombie's face and eat it thinking it's made of Rice Krispies. In order to save the film, audience members are called upon to dodge the flesh-eating zombies and hunt down the necessary items needed to help the film crew break the Gypsies' curse and send the zombies back to their graves. Your audience will love this hilarious, action-packed play, which lets the audience join in on all the zany fun!

Freeviews: To read play excerpts click here.
Please remember it is necessary to purchase one script for each cast member and one royalty for each performance.

Scripts: $8.95 each
Royalty: $75.00/performance
Prompt Book: $16.00
Poster Package: $50.00 (50/pkg)
Distribution Rights: $75.00
Artwork Rights: $50.00
Play Pack: $372.00 (28 scripts for cast/crew, 1 royalty, 50 posters, 1 prompt book)


Kamron Klitgaard is the author of several plays and has been a high school theatre teacher for more than a decade. Mr. Klitgaard lives with his wife Kathy; his three daughters Kortney, Katelynn, and Karlee; and his son Keaton in Utah.